Overview
Edit
The Test Library was designed for quickly sketching out your test plan structure, and mass-type in your tests.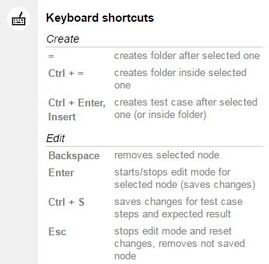 The whole view can easily be used only by using the keyboard - you can find the keyboard shortcuts on a panel to the right side of the page. After you've familiarized with it, you can close the panel to give more space to your tests.
This view displays your whole test structure as one document - the folders are indenting the tests. You can open or close folders to display exactly the section you want to work on.
You can outline your structure, enter your test summaries, or "flesh out" your tests, as the phase of development requires.
Details panel
Edit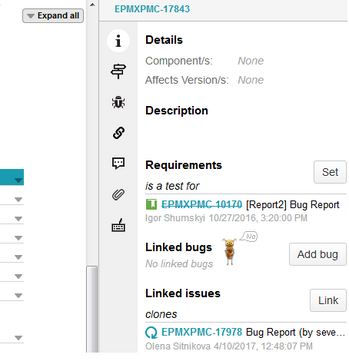 Clicking on test case or selecting them with your keyboard will open the Details panel for selected issue on the right side of the page.
Here you get all the standard test issue fields. You are able to add a bug, set requirement, link stories (or any other issues), enter comments, attach files, and add a description. Note that the contents of this panel change dynamically with selection of a test.
Linked issues in "Linked bugs" and "Linked issues" sections are grouped by link type and ordered by modification date. If there are more than 5 items in the list they will be hide, but you always may open them by pressing Show more links.
Also this panel wired to the multi user protocol, so all changes from other users will be shown immediately.
Moreover you are able to import the existing test suit from an excel file. We would recommend you to export first a sample excel file in order to familiarize with its quite simple structure (and put your data directly into it).
In case you have a custom excel file, it requires small adjustments of structure and test data itself in order to make them suitable with our format:
| path | priority | summary | test steps | expected result | status | description | labels | components | versions |
| --- | --- | --- | --- | --- | --- | --- | --- | --- | --- |
Be aware that only third field - Summary is mandatory. So since you just populated its rows the system will create correspondent number of tests in root folder with default or empty fields. Pay attention that there is 3000 rows limitation per one imported excel file.
In addition, please keep an excel tab name as Tests.
To get export/import feature just to click on following controls
Ad blocker interference detected!
Wikia is a free-to-use site that makes money from advertising. We have a modified experience for viewers using ad blockers

Wikia is not accessible if you've made further modifications. Remove the custom ad blocker rule(s) and the page will load as expected.